9 Do-It-Yourself House Cleaning Tips
Tidy Casa is here to help you get your time back so you can spend time with your family doing the things you love. We've compiled 9 DIY house cleaning tips to help you spruce up your home!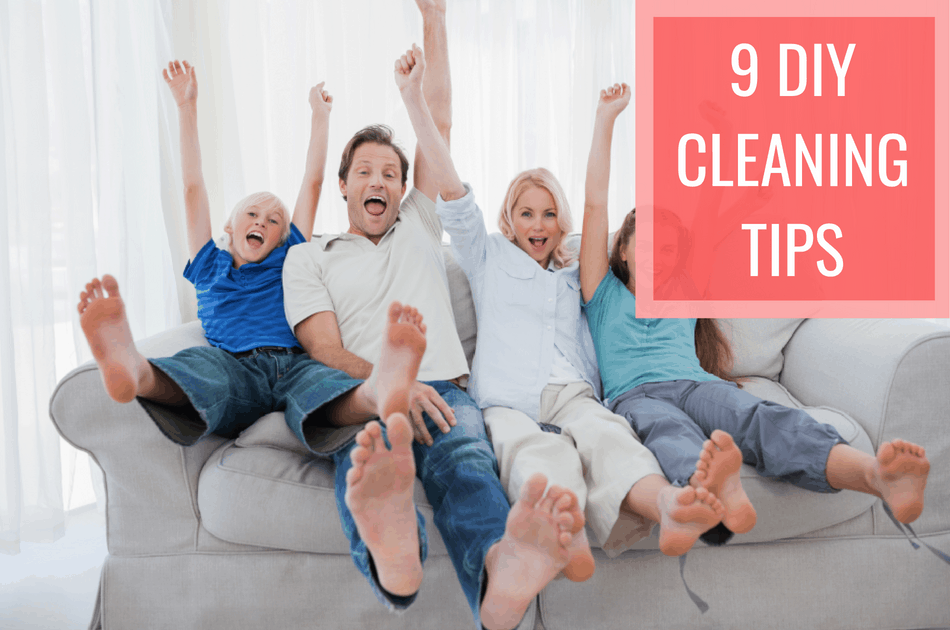 1. Cleaning Blinds
Here is a way to clean your blinds without having to take them down. Whether your blinds are vertical or horizontal, you can clean them without having to take them down (providing they aren't cloth blinds). Check out this video for tips on how to clean your blinds. Watch How Here
2. Room Freshener
Looking for a fresh scented smell for your house? Here's how to get your house smelling great right away! Add Scent boosters (like Downy Unstoppables or any other brand) to a bottle of water and create your own air freshener. Then start spraying throughout your home!
3. Remove Pet Hair
Does your favorite four-legged friend leave your furniture hairy? Your first thought was probably to use a lint roller or tape, but here is a new and improved way you probably haven't heard of yet. Use a damp rubber glove and wipe your hand across the furniture. If you don't have rubber gloves you can use a damp sponge. Give it a shot!
4. Microwave Cleaning
Is your microwave dirty? A quick and simple way to clean it is to use a lemon. Yes, a lemon! All you need for this cleaning trick is ½ cup of water in a bowl, squeeze half a lemon in the bowl, and then microwave on high for 3 minutes so it comes to a boil. Next, keep the door shut and let the steam sit in there for 5 minutes. Then lastly, open the door, remove the bowl, and then wipe the inside clean!
5. Baking Soda Magic
Here are 3 uses for baking soda you might not have thought about:
Tubs & Sinks – Sprinkle some baking soda on your tubs and sinks and then wipe with a clean damp washcloth. Rinse and dry.
Tile Floors – Use 1/2 cup baking soda in a bucket of warm water to help mop and clean floors.
Crayons – Clean crayon marks off surfaces by applying baking soda to a slightly wet cloth and rub lightly. Wipe off with a clean, dry cloth.
6. Pet Odors
Does your pet have your house smelling not so fresh? All you need for this simple trick is a water bottle, essential oils fragrant, vinegar, and water. Shake it well and then spray everywhere! Go here for the recipe
7. Grout Stains
Do you have stubborn grout stains? If so, mix a paste of two parts baking soda and one part water. Next, apply it to the stain and let it sit overnight, Then scrub with a nylon brush. Lastly, rinse thoroughly with hot water when you're done. Your grout will be looking like new!
8. Fresh Bathroom Scents
Use your favorite essential oil of your choosing and sprinkle three to five drops on the inside of the toilet paper roll. This will leave your bathroom smelling fresh every time the roll spins. Spin-on!
9. Wood Floors
Are your floors looking dirty and old? White Vinegar and water will clean them without damaging them. First, make sure to thoroughly remove dust and dirt (vacuum) as this can lead to scratches. Next, mix a ratio of one gallon of warm water to a half cup of white vinegar in a bucket. Then submerge your mop into the bucket and ring it out. Lastly, mop away!
10. Bonus Tip: Get the home smelling great!
Our friends at Porch have some great tips for getting a home smelling amazing. Check out Porch's blog Natural Ways To Make Your Home Smell Good.
If you're looking for an experienced house cleaning company that services homes across Phoenix and Tucson, AZ, you can trust us!
We take care of all your house cleaning needs, from one-time cleanings, recurring cleanings, deep cleanings, and move-in/out cleanings. Contact us for an instant quote!
Don't Wait, Book Your Home Cleaning Today