Home Cleaning Service
Book a home cleaning today
The clutter is piling up, dust bunnies have started their own eco-system and you're too busy with life… we've all been there. It's hard to find time for house cleaning when life gets in the way.
It's time to get your life back. Let Tidy Casa clean your home and start winning the war with those dust bunnies!
Yes, we will clean your home!
If you're looking for a house cleaning service anywhere in the Phoenix Metro area, whether it's a 500 sq apartment or a 5,000 sq house. We're here to help! We clean homes of all shapes and sizes. From residential homes to apartments and townhomes. We clean valley wide and even offer an hourly service for odd jobs that don't require a full home cleaning. We're flexible and can help you out no matter what your situation.
We Guarantee You'll Love the Service
There are a lot that goes into picking a great house cleaner. Trust us, we know! Finding a truly great team can take months! We interview 100s of cleaners before we hire one that meets our standard. That's because with our 200% guarantee we can only afford the best cleaners in the valley! We've already handled the leg work of hiring a great team and we've put our money where our mouth is.
No Estimate Needed
Our home cleanings are a flat rate, meaning there's no need for estimates or in-person visits for a quote. Just tell us the number of bedrooms and bathrooms in the house, add anything else you need to be cleaned to the order, and book. It's that easy!
Don't Wait, Book Your Home Cleaning Today
What's Included in a Standard Home Cleaning?
Need to know what's included with a Tidy Casa Cleaning? Click the area of the house below to get the complete list.
Kitchen
Dust all accessible surfaces
Clean countertops
Empty sink and load up dishwasher with dirty dishes
Wipe down exterior of appliances like the stove, oven, and fridge
Clean the inside and outside of the microwave
Clean all floor surfaces
Take out any garbage and replace garbage bags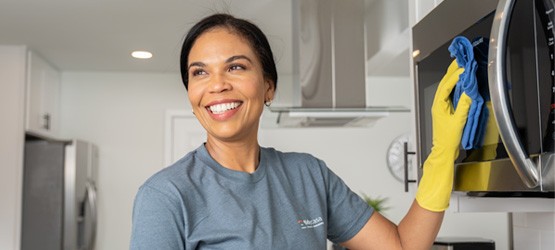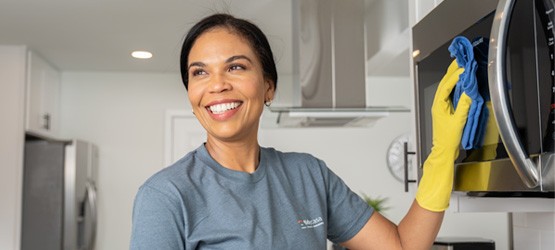 Bathrooms
Polish and clean mirrors
Clean and wash out sinks
Shine spouts and handles
Wash all countertops
Sanitize toilets and toilet bowls
Clean showers and tubs
Empty and replace trash can bags
Sweep, mop and vacuum all floor surfaces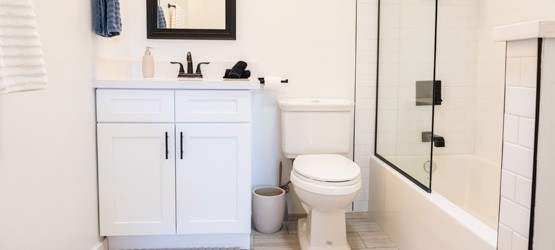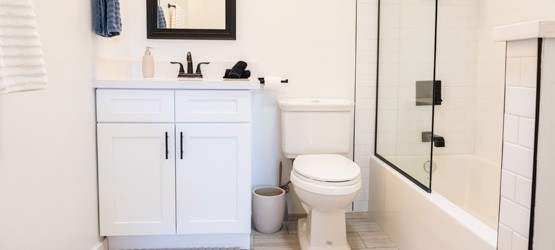 Bedroom, Living Room & Common Areas
Wiping down table surfaces and countertops
Dusting ceiling fans (as needed)
Dusting window sills (as needed)
Empty and replace trash can bags
Sweep, mop, and vacuum all floor surfaces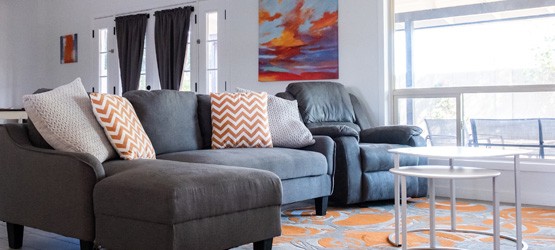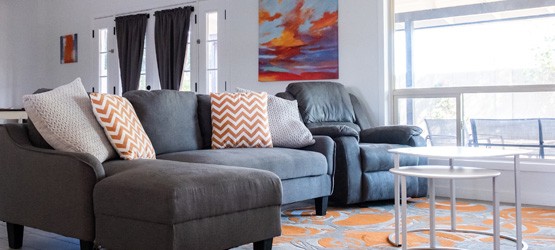 Extras (upon request)
In addition to the standard cleanings, extras can always be added upon request for that additional shine.
Cleaning inside refrigerator
Cleaning inside of the oven
Cleaning the interior windows
Clean all floor surfaces
Cleaning the inside of cabinets
Dusting blinds
Wet wiping blinds
Cleaning doors
Dusting AC vents
Spot cleaning walls
Move-in/Move-out cleaning: Inside windows, dusting blinds, and baseboards
Deep cleaning: Baseboards, dusting blinds, doors, vents, light switches, and power outlets
Heavy-duty cleanings are also available for homes that require a little more TLC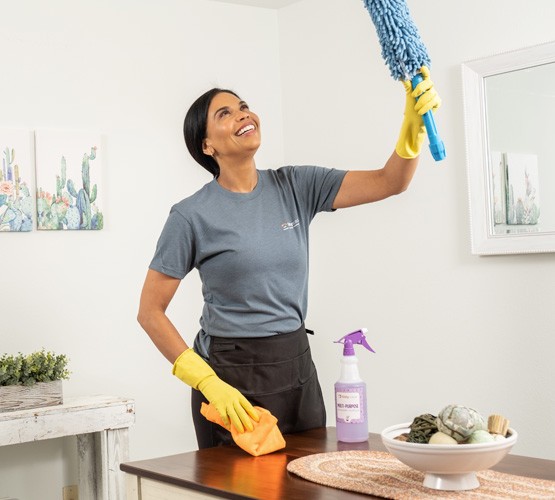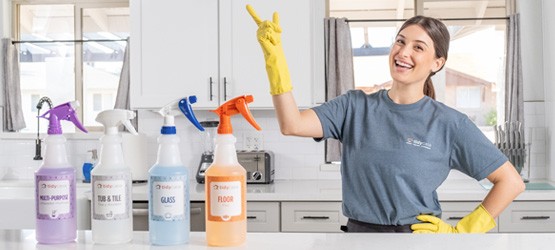 It's important to note that each cleaning is a custom job, and no two houses are the same. Because each service is customized to your home, not all the services are done all the time. Our cleaners are professionals, and it's up to their discretion what needs to be cleaned and what doesn't. Some cleanings will get more attention, depending on the home's condition.
Be sure to inform your cleaning specialist of any needs you might have at the beginning of the cleaning, including particular areas you would like them to pay attention to. When we're finished, we will always ensure you're 100% satisfied with your home's appearance.
Still not sure?
Still on the fence about getting a professional house cleaning service? Give us a call! We're happy to answer any questions. You can also schedule an appointment through our online booking system. You're in control of the appointment. Change appointment times, add new services, or cancel anytime.
Don't Wait, Book Your Home Cleaning Today
Don't Wait, Book Your Home Cleaning Today
Home Cleaning Frequently Asked Questions (FAQs)
After cleaning for almost a decade, we've been asked just about every question in the book. Here's a list of all our most frequently asked questions regarding standard home cleaning services. Have a question and don't see the answer here? We have a more extensive list of FAQs on our FAQ page here, or we're always happy to connect over the phone and answer any questions there. Feel free to call us at (602) 753-5630 or text us at (602) 737-1992. Our office is open Monday to Friday from 8 AM to 5 PM, Mountain Standard Time. We look forward to connecting soon. 🙂
How much does a cleaning cost?

Home cleanings will range in price depending on the home's size. Houses or apartments under 1,000 SQFT with only a basic cleaning service start around $149.80, while large homes or homes requiring more cleaning services could cost well over $300.

That being said, the size, location, and specific services being requested all play a part in finding the right price for the cleaning.

The easiest way to find the right price would be with Tidy Casa's online booking tool. This tool will allow adding and subtracting rooms, SQFT, and needed services. This makes it easy to get a feel for how much cleaning will cost and things that can be done to save money. For example, there are discounts for removing bedrooms or bathrooms that may not need to be cleaned. 

While this tool does a great job giving pricing, it can be easy to get overwhelmed playing with complex estimator tools like this. If that's the case, always call or email us with any questions. We'll be able to provide a more exact quote over the phone or help get the price down by removing rooms or looking for available coupons.

On that note, we do offer coupons from time to from. Typically during our slow season, June through August, or mid-week coupons for days like Wednesday when fewer people need cleanings. If you're someone who doesn't mind getting a cleaning on a Wednesday, let us know you're flexible, and we'll see if there are any discounts available.

Note: Select the most accurate SQFT size. If a home is 2,000 SQFT, selecting 1,999 SQFT and rounding down will make us grumpy, and we WILL call to adjust it back up!

How long does a cleaning take?

The time needed for a home cleaning can vary based on many factors.

Factors that affect the time cleaning may take include:

The condition and size of the home: For example, has the home been cleaned in the last few months, or maybe it's been years since it was professionally cleaned? If it hasn't been professionally cleaned recently, has the home been kept up in between cleanings? All these things play into the amount of elbow grease and time required to clean and can add or subtract away from the total time needed.
Any extras requested with the cleaning: We offer additional services like deep cleaning, baseboards, inside the oven, and wet wiping of the blinds. All these services add additional time depending on what's being requested.
Which team is assigned to the home cleaning: It's no surprise our home cleaners are human; some cleaners clean faster than others. We use flat rate pricing on all our cleanings. This intentional practice allows our cleaning teams to take their time and focus on the cleaning done well without being rushed.
Is this a historic home: Over time, we've learned that historic homes on paper typically have fewer and cozier time-consuming areas like bathrooms? They tend to develop more character over the years, adding to the cleaning time.

All this to say, all homes are unique, and all cleaners work at different speeds. Spending more time in a home doesn't always lead to better results. For this reason, we don't charge by the hour for our services. The best results come from focusing on completing a list of cleaning tasks and completing them well.

That said, we expect a standard cleaning for most homes takes between 1-3 hours for a two-person team.

While we expect most homes to fall into this time frame, not all will, which should be expected.

If a more accurate timeline is needed for planning purposes, we're always happy to provide a possible time range over the phone or by email. Feel free to call or email us anytime. We're always glad to help!

NOTE: We've learned it's impossible to guarantee an exact time since all homes are different and all cleaner(s) work at different speeds.

Is there a discount for regular service?

Of course! It's no secret the more often we visit a home, the easier it is to clean the next time out.

That said, we give discounts to customers who can get on a recurring schedule. The more frequent we can come, the bigger the discount we can offer!

The discounts offered are as follows:

| | | |
| --- | --- | --- |
| Weekly | Bi-Weekly | Monthly |
| 15% Off | 10% Off | 5% Off |

We currently don't offer an every three-week recurring cadence due to scheduling conflicts with the other frequencies. When we've tried every three-week appointments in the past, we needed to reschedule them too frequently to be a maximum benefit to either the customer or us.  

Are there discounts for missing certain rooms in the home?

Many homes have rooms like an office, guest room, or bathroom that aren't used frequently enough to warrant a cleaning.  Alternatively, there are sometimes rooms we don't want anyone visiting. We all know the anxiety of getting those documents on the home office desk shuffled in the wrong order. I promise it's organized chaos! 

 

In these cases where we're requested not to clean a bathroom or bedroom/office, we're always happy to offer discounts.

 

The current discount rate is $10.00 if we're missing a bedroom/office or a $15.00 discount for not having a bathroom clean.

 

Some people have questions regarding why the discount for bedrooms and bathrooms isn't more significant given how the space is compared to the total SQFT of the home. Even though we charge a flat rate in any home, we base our flat rate pricing on how long we typically take to clean. That said, not all SQFT are created equal in a home.

 

Bedrooms are typically straightforward and quick spaces to clean and don't add excessive time to the total cleaning.

 

Additionally, the bathrooms we'd be missing are typically half baths or toilets that seldom get used.

 

When cleaning any house, we spend the most time in kitchens, master baths, and communicating to the actual job location, so the pricing needs to consider all those factors and not just blanket SQFT alone.  


NOTE: We'll still need to know the total number of bedrooms and bathrooms in the home to calculate the size of the general living spaces like kitchens and the size of the master bath.

How many people show up to clean?

The size of the cleaning team will vary based on a lot of factors. Some of our cleaners go in a team of two, and others clean solo.

Depending on the job size, we may send a team of two or a solo cleaner, depending on the requirements. Homes that are less than 1,500 SQFT with few extras will almost get a solo cleaner. At the same time, larger homes or homes with more add-on services will typically get two people if two cleaners are available.

A lot of who we're able to send depends on the time of the day, time of the year, and several other factors that are out of our control.

That said, if you require a certain number of cleaning professionals or are in a hurry and need the cleaning service completed sooner, let us know those specific needs by adding a note in the booking when booking online or letting us know over the phone, so we can do our best to accommodate.

We're always happy to do whatever we can to ensure the cleaning goes well. We just have to know what's needed to make it happen. 🙂

Will you send a different team every time I book a service?

Recurring Appointments

We know how important it is to build rapport with the people working in your home. Especially if they're coming weekly, we do our best to keep you with the same cleaner(s) as much as possible. For recurring appointments, we'll try and send the same team every time unless instructed otherwise.

With that, we ambitiously want our cleaners to be available every time. We, unfortunately, haven't gotten our robot cleaners built yet. So until then, we do work with human beings. That being the case, they take vacations, get sick, or sometimes switch careers. This won't happen often, and we're usually pretty good about sending the same cleaners if possible.

In cases where the usual team isn't available, we'll communicate a new cleaner(s) will be arriving. That way, you and your family aren't caught off-guard and know to expect a new happy face from Tidy Casa.

If we do need to switch the cleaner for any reason and we're unable to connect with you via text, phone, email, or if it's a soft request (Example: "Please, send Jessica if she's available."), we'll assign the best cleaner(s) we have on our roster at the requested date/time.

The good news is that our cleaning professionals are highly vetted, world-class cleaners you know you can trust, and our 200% happiness guarantee always applies.

One-Time Appointments

If there are cleaner(s) you'd prefer, make sure to request them in the notes, so we're aware of the preference.

Our cleaner(s) stay very busy, so it can be challenging to keep the same cleaner(s) working on jobs that aren't on a regular schedule like monthly, bi-weekly, or weekly. That said, we'll do our best to put them on the schedule but won't be able to guarantee anyone cleaner(s) will be available at the chosen date/time.

In those cases, as long as we're made aware of the preference, we'll do our best to communicate a time that will work for both parties. In cases where we're unable to connect via text, phone, email, or if it's a soft request (Example: "Please, send Vanessa if she's available."), we'll assign the best cleaner(s) we have on our roster at the requested date/time.

Do we clean larger homes?

Of course, we do! Our public online booking form doesn't allow for entries larger than 6,000 SQFT. However, that doesn't mean we don't service those homes. 

If you're looking for a cleaning for a home that's larger than 6,000 SQFT or if our booking form isn't showing any availability for a home between 2,000 and 6,000 SQFT. 

We most likely can help but may need to move other appointments or pair up our cleaners to accommodate better. 

In these cases, it's much easier for us to book these appointments over the phone. This allows us to move other appointments or pair up multiple cleaners to help make availability.

If this is you, please call us, and we'll be happy to assist over the phone.

Tidy Casa is fully bonded. As part of our insurance coverage, we do also have bond insurance. While we get this question, often, many haven't had the opportunity to learn what bond insurance covers. 

Bond insurance covers anything that may have been stolen by one of our service providers. That said, bond insurance will require proof that an item was stolen. If you suspect an item was taken from the home without permission, please let us know ASAP so we can assist in filing a police report. The good news is, we take who we send to people's homes very seriously. Because all our home cleaners are fully vetted and background checked, we've never had to use our bond insurance. 

Rest assured, you're in good hands. 🙂

Can I cancel my appointment if I change my mind?

There are never contracts or obligations when working with Tidy Casa. You can cancel an appointment at any time.

The only thing we ask is if you have to reschedule for any reason, let us know at least 48 hours in advance.

There is a $70 cancellation fee for cancellations that occur 48 hours before the arrival time of the appointment.

Aside from keeping us in the loop, feel free to cancel an appointment any time. As a courtesy to us, however, please let us know as soon as possible so we can ensure our cleaners stay busy. 

When will you charge my card?

We put the total amount for the service on hold the business day before service. While this isn't a charge and the money doesn't leave the account, some banks will show this transaction as a charge.

Since so much can change on the day of the service, like adding tips or additional services which may affect the final price of the cleaning, we only fully charge cards after the cleaning service is completed. 

That said, putting a hold on the account the business day before the service is an integral part of ensuring all the billing information is correct, and we can pay our cleaners. 

If the appointment is on Monday, the hold will be placed the Friday before. 

If the service is canceled with a hold, it will drop off within 2-5 days. Services are fully charged after the service is completed.

Can I / do I have to leave a tip?

We pride ourselves on always treating our cleaners with empathy and respect. That means having the most competitive pay possible. 

All our home cleaners are paid a highly competitive living wage. Because of that, tips are not required but are always appreciated. 

Feel free to give your cleaning professional a tip. It will make their day! If you feel inclined, you can tip in cash or let us know how much you would like to tip, and we'll process it via the credit card on file.

 

The second question we always get is, how much should I tip my home cleaner? As a reference, $10 is a nice tip, and $30 is a great tip. 

It says recurring payment on my bank statement. Will I be charged again?

We keep credit cards on file encrypted with our credit card processing company, and we take this responsibility very seriously.

Depending on the bank, a bank may show our charges as "recurring." The short answer is that we'll only charge the account when we've completed a cleaning.

Because so much can change when we do a cleaning service, like adding a tip, or removing a bedroom from the cleaning, as an example, we never automatically charge a card for any service. All these functions happen manually after the cleaning is completed.

That way, we know we're only charging after a service is performed, except for purchasing a gift card or a late cancellation fee.  

Do I need to be home for my cleaning?

As much as we love seeing and getting to know our customers in person, sometimes it's inconvenient to be home during the cleaning. This is especially true during move-in/move-out cleanings.

In the case of move-in/move-out cleanings, once the home is empty, we suggest not being home for the best experience. Moving is complicated, and the last thing you need to do is wait through our hour-long arrival window in an empty house without a TV to watch.

That said, we always leave it up to our clients as to whether or not to be home during the cleaning. As long as we have a way to get into the home, no one needs to be present for the cleaning.

Whether it be a gate code or key under the matt, we'll be able to get in, clean, and get out while you're at work, shopping, or getting other things taken care of for a move.

We'll even lock up when we're done.

To let us know how to get into the home, just leave a note on the appointment booking or let us know over the phone while booking the appointment.

Did you forget to leave a note and decide later you didn't want to be home for the cleaning? Give us a call, send us an email, or log into your Tidy Casa account and update the appointment with how we can get in. We look forward to helping you clean!

What is the fastest way to clean your house professionally?

The easiest and fastest way to clean a house is to hire a professional to do the cleaning service. More than professional cleaning supplies, professional cleaners have a world of experience most of us don't. This allows them to move through a house much quicker. Most professionals can complete house cleaning within 2-3 hours, whereas someone without that experience may take 5-8 hours to do the same quality of work. 

Suppose the affordability of a professional cleaner is a consideration. The best thing to do is to clean/dust from top to bottom. Meaning dusting higher selves, then countertops, then floors. Focus on the more essential payoff items that make the most difference. Sweeping, mopping, vacuuming, making beds, clearing out the dishes, and wiping down the countertops. While not being a complete professional cleaning, these items will significantly impact how the space looks.
Don't Wait
Take back the war on those dust bunnies, and get some time back in your life. Book your home cleaning appointment today! We can't wait to help you tidy up.
Don't Wait, Book Your Home Cleaning Today
Is There Anything Tidy Casa Can't Clean?
There are not many things we can't clean but here's the list…
Light bulbs & lighting fixtures: We won't wipe down or wet wipe light bulbs. These are too fragile and too big a liability for us to clean.
Garages & patios: We must keep our teams indoors with Arizona heat. It's too dangerous in AZ for us to clean outdoors. We don't carry the necessary pressure washers to clean patios and garages. Because of this, we do not clean garages or patios.
Outside windows: Outside windows require ladders and special equipment to clean properly. Our teams are only set up to clean inside windows, which can be reached with a small step ladder.
Additional items on our can't clean list can be found here.